If you read my About Me post, you would know I love ♥ all types of art ♥ , but especially drawing and sketching. I got the idea to try to make my own drawing challenge! I thought I should post it so if anyone else loves to draw and sketch, or even if they don't like to, they can try it!
Pretty much what it is is a list of a whole bunch of drawing prompts. There is one for every day of the month, (any month) and the goal is to draw something, even if it is a tiny little doodle, of the first thing that comes to mind when you read the prompt. It could be a piece Van Gogh would be proud of or something so bad the dog wouldn't even WANT to eat it, it doesn't matter! You don't have to be good at art to do this challenge. In fact, this could be how you get better!
After the month is over, even if you missed a couple days, I can bet your mind will be blown when you see how much your artwork has gotten better. I've also included a picture of what came to my mind when I read the first prompt!
(To see something similar to this on a different blog, click here.)
Day 1; Milkmaid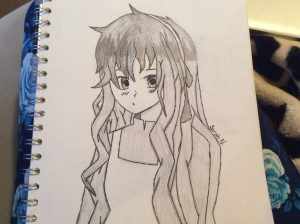 Day 2; Frustrating
Day 3; Drowning
Day 4; Paris
Day 5; Movie trailer
Day 6; Animatronic
Day 7; Impossible
Day 8; Winter
Day 9; Sad
Day 10; Fiery
Day 11; Shattered
Day 12; Delicious
Day 13; Divided
Day 14; Beautiful
Day 15; Arrogant
Day 16; Assassin
Day 17; Shadowy
Day 18; Sparkly unicorn poop (Yep, I just went there! Deal with it!)
Day 19; Cozy
Day 20; Mysterious
Day 21; Discovered
Day 22; Poison
Day 23; A fat cat on a mat
Day 24; Gone
Day 25; Mailman
Day 26; Artist
Day 27; Cook
Day 28; Locked
Day 29; Ready
Day 30; Swordplay
Day 31; Crooked
Welp, that's it for the prompts! Sorry for the long post. If you decided to do the challenge, or if you used any one of these prompts, I would love to know which one! Have a great day!
~ Sarah