Hey!
Today, I'm doing something a little different from usual. If you read my "About Me" post, you would know that I love video games. In particular, the "Legend of Zelda" franchise. I'm going to do a game review on "The Legend of Zelda; Breath of The Wild", the newest and most critically acclaimed addition to this already phenomenal series. Before I start, I just want to say that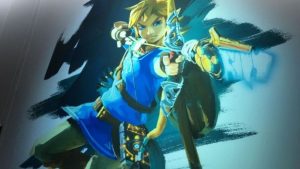 it is a completely open-air game, with MASSIVE exploring space, (divided into regions) 76 side quests in total and dozens upon dozens of items, weapons and creatures. There are also many mini games, little easter eggs, (not literal easter eggs; little fun surprises and helpful collectibles.)
Basically, you start the game with your memories gone, with only a strange, woman's voice to guide you. Later, you find out that the kingdom of Hyrule is in grave danger. A beast named Calamity Ganon has destroyed Hyrule, turning it into a desolate land of monsters and ruin. Few villages and towns have survived, and the princess, Zelda, is the only one keeping Calamity Ganon from destroying Hyrule completely. Your ultimate task is to defeat Calamity Ganon and aid Princess Zelda before that happens.
What I love about this game is that is is completely open-ended. Don't feel like continuing the storyline for a while? No prob. Explore the vast regions of Hyrule, meet new people, get stronger, and spend as much time as you like doing just that. Also, it is not a short game. You will not finish it in a week. You will get plenty of enjoyable play time out of it, and by plenty, I REALLY mean it.
For now, I hope you enjoyed my game review, maybe later I will write a little more on the subject. But for now, that's it! I highly recommend this game, but a thing to note is that this game is currently only available on the Nintendo Switch or the WiiU. However, they have discontinued making the WiiU, so it is only available on the WiiU if you already have the gaming system.
Anyway, have a great day!
~Sarah